Holiday Notice (27th Sep - 3rd Oct, 14th - 19th Oct KST)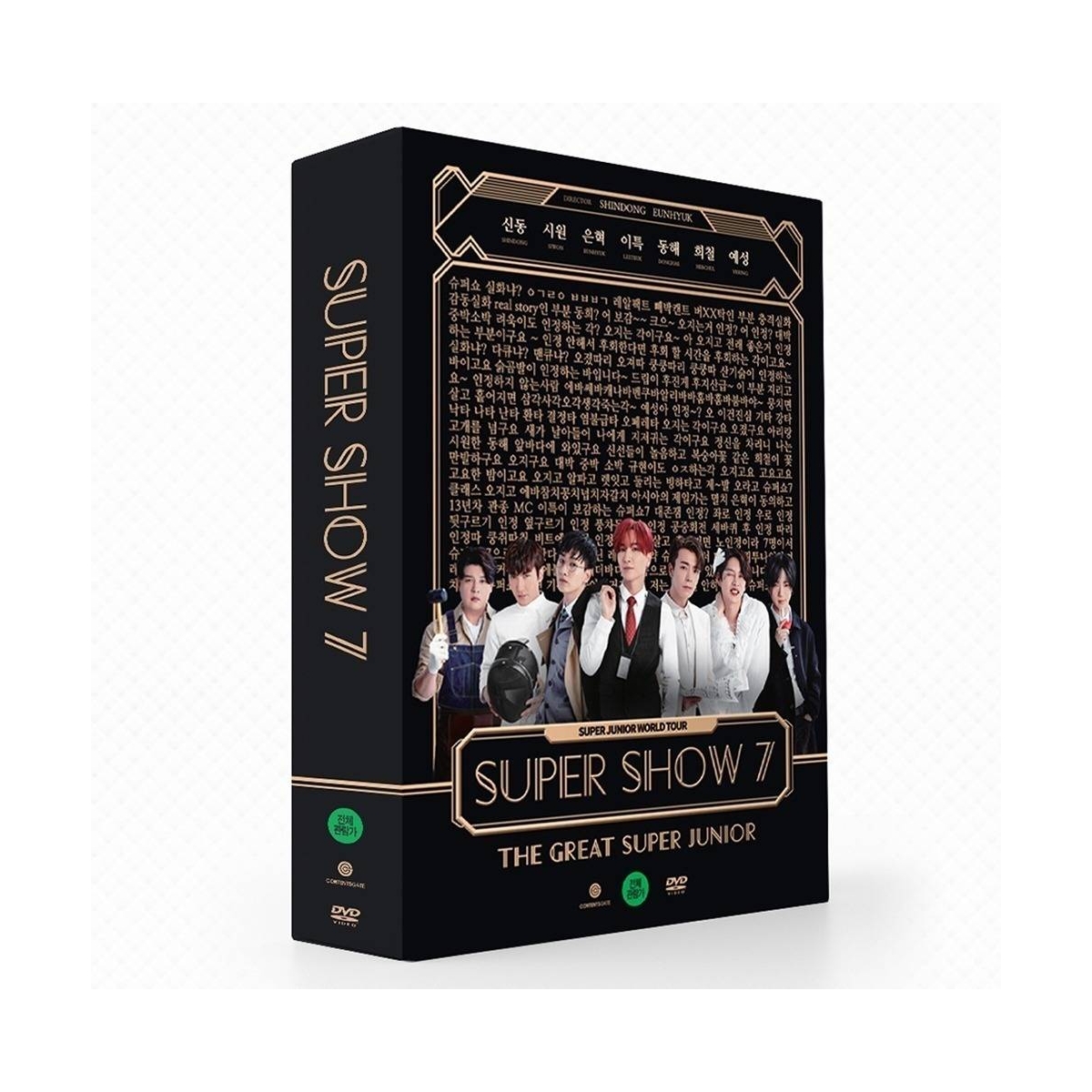  
Super Junior - Super Show 7 DVD
SM Entertainment
2019.06
DVD (Region Code: All)
Subtitles: Japanese, Chinese, Korean
Weight: 23
DISC 01
1 Black Suit_Rearranged
2 Scene Stealer_Rearranged
3 MAMACITA (아야야)
4 Shirt
5 예뻐 보여 (Girlfriend)
6 This Is Love_Stage ver.
7 시간 차 (Too late)
8 너라고 (It's You)
9 비처럼 가지 마요 (One More Chance)_Band ver.
10 기억을 따라 (Memories)_Band ver.
11 별이 뜬다 (Stars Appear...)_Band ver.
12 슈퍼레인저 (Super Rangers)
13 로꾸거!!! (Rokuko)
14 Twins (Knock Out)_Band ver.
15 Runaway_Band ver.
16 Too Many Beautiful Girls_Band ver.
17 Magic_Band ver.
DISC 02
18 Let's Dance_Rearranged
19 짬에서 나오는 바이브 (Charm of Life)
20 On and On
21 Super Duper
22 Intro + Sorry Sorry_Rearranged_Band ver.
23 Mr. Simple_Band ver.
24 미인아 (Bonamana)_Band ver.
25 I do (두 번째 고백)_Band ver.
26 The Lucky Ones_Band ver.
27 Shining Star_Rearranged_Band ver.
28 Drum Performance
29 Devil_Band ver.
30 Spin Up!_Band ver.
31 Miracle_Band ver.
Bonus Feature – Concert Making Film



Packages are generally dispatched within 2 business days after receipt of payment.

Shipping fees include handling and packing fees as well as postage costs, and it will be calculated automatically, depending on your location, shipping method, and item weights.

Our job is limited to dispatching orders through shipping options that buyers choose on their own, and we can't make a particular order arrive faster than others.

If you need faster shipping, please choose the faster shipping option instead of demanding us faster shipping.
The weight is our own unit of measurement, and it's neither lbs nor kg.

Please click on the following link for details.